Bespoke Eyewear: The Future of Designer Frames
Crystal Eyecare now offers bespoke, custom-made, made-to-spec eyewear
What is Bespoke Eyewear?
Bespoke eyewear is a melding of form and function. Have you ever purchased a pair of glasses that looked good on you, but didn't fit well? Have you ever seen a pair of glasses that you loved but didn't look good on you? Bespoke eyewear is the solution to both of these issues and more. Bespoke according to Merriam Webster means custom-made. This word originally came from the fabric and clothing industry to describe clothing that was made to fit you as precisely as possible and to look the way you want. While mass production of clothing has been wonderful, some of us need something a little different either in style or fit.
Crystal Eyecare can now "tailor" a pair of frames to your specifications. It is our desire to make you the best pair of glasses bar none.
How is Bespoke Eyewear made?
Bespoke eyewear is created by taking a scan of your face/head. This allows us to obtain the relative dimensions of your facial features.
Standard photos with a standardizing tool help us to obtain absolute dimensions.
These measurements combine to give you the "personalized fit"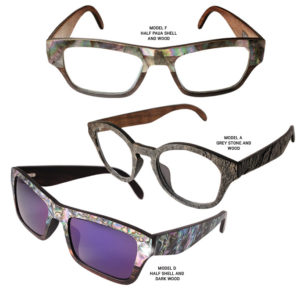 What Options Does Bespoke Eyewear Offer?
We look at a variety of frame styles which we call "primitives." These base styles become the jumping-off point in the design process. These styles are then personalized/modified to your liking.
Bespoke Sunglasses can be made in a variety of colors that best suit your personal tastes
The variety of materials and colors are extensive. We offer various woods, traditional plastic, titanium, spexwax (essentially vinyl records), and buffalo horn.
The materials we decide upon also have some veneers to consider such as seashell, stone, carbon fiber and cork.
Once the base material and shape have been decided upon we provide a rendering of the choices you've made. This allows us to make accentuations, engravings, and changes that allow us
to provide the "personalized style" you want. The glasses are then overlaid on your facial scan, showing you a rendition of your tailor-made frames.
We always think ahead in terms of the final product by giving you feedback regarding how the lenses, in the customized frame, will perform. This allows us to provide you with the best profile of the lenses possible.
All these features combined yield a unique pair of glasses that look great, feel great so you can see great. They just might be the best pair of glasses you ever wore.
Schedule an appointment today at Crystal Eyecare
Call or schedule an appointment to see how you can create your custom-made, made-to-spec, signature look.